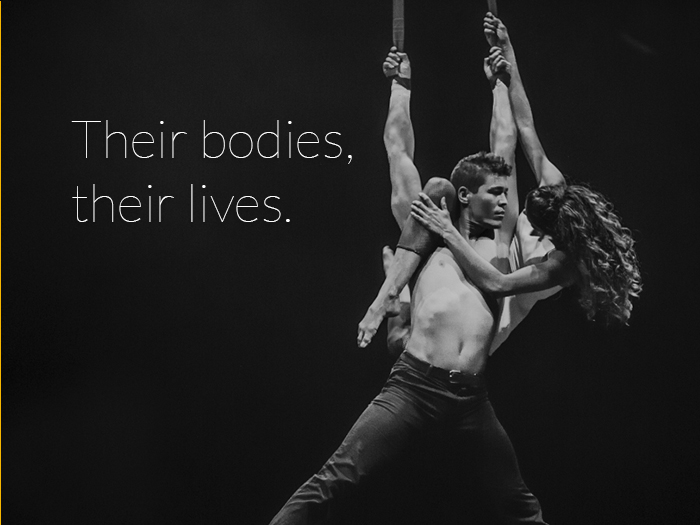 Since the beginning of the pandemic, all of us who are part of the events sector have seen our activity affected or completely stopped. Moments of uncertainty, empty agendas from day to night, as we have never experienced before. Most of our teams are on temporary unemployment, looking for solutions, supporting the sanitary heros and waiting for the vaccination campaign to allow us to fill the stages with artists and the venues with the public again.

If it is hard for those behind the screen, can you imagine how it must have been and will be, the daily life of artists whose work tool is their body?

Today the answer comes from two great acrobats with whom we have worked on numerous occasions. Through this interview they give voice to all the artists, who today more than ever, strive to maintain the illusion of continuing to amaze... And to see the light of the spotlight at the end of this tunnel!
Although we know that it is very difficult to summarize more than 14 years of career, can you tell us, briefly, about your professional career and at what point were you in March 2020?
We were formed as an artistic duo in 2007. Since then we have been part of various dance, theater, circus and cabaret companies highlighting Cirque Èloize (Montreal), Recirquel (Budapest), Kristallpalast (Leipzig), Wintergarten (Berlin) and Roncalli's Apollo Variette (Düsseldorf). In 2018 we won the Audience Award and the Roncalli Circus Award at the festival, Newcomershow in Leipzig with our act "Memories", a number with which we received in 2020 the Mandrakes d'Or award in Paris, known as the "Oscar" of Magic.

In 2016 we formed the company "La Gata Japonesa" premiering in 2017 "Lumières Foraines", show directed by Leandre Ribera and in 2021 "Los Viajes de Bowa" under the direction of Lucas Escobedo. We both have a degree in Physical Activity and Sport Sciences from the UPM and a Master in Performing Arts from the URJC. In the circus field we started training in a self-taught way, receiving unregulated training in several national and international schools to finally specialize in aerial ribbons at the Leotard School (Montreal).

In March 2020 Elena was a few days away from the premiere of her show, "Los Viajes Bowa", in Alicante and Diego was in Tenerife with a 3 months contract ahead, which Elena would join a month later. Everything was cancelled and we passed the quarantine where we were at the time of the closing.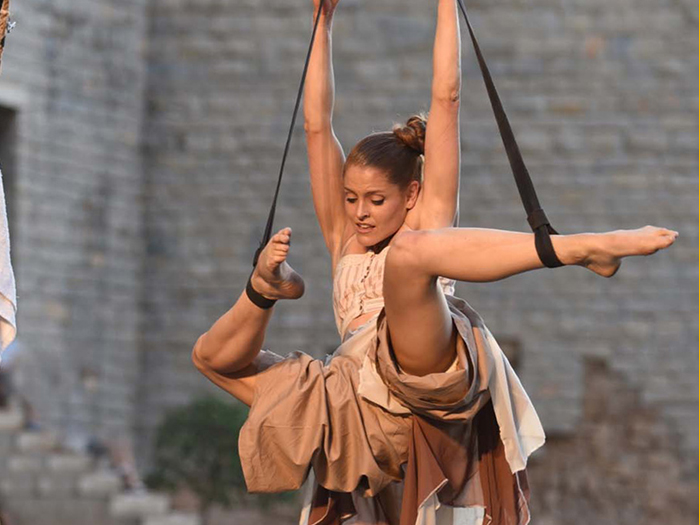 What does your day-to-day life consist of, and have you changed your "routine" during COVID's time?
Our daily routine is based on prioritizing training. We have the habit of using the morning to work on the specific technique of our acts and then work on the creation of new acts, office work and production.

Fortunately, we have a large, conditioned space, with all our training needs covered, so except for the seasons that we have had to be confined with limited mobility, we have used the same amount of time for our training and creation as in previous seasons.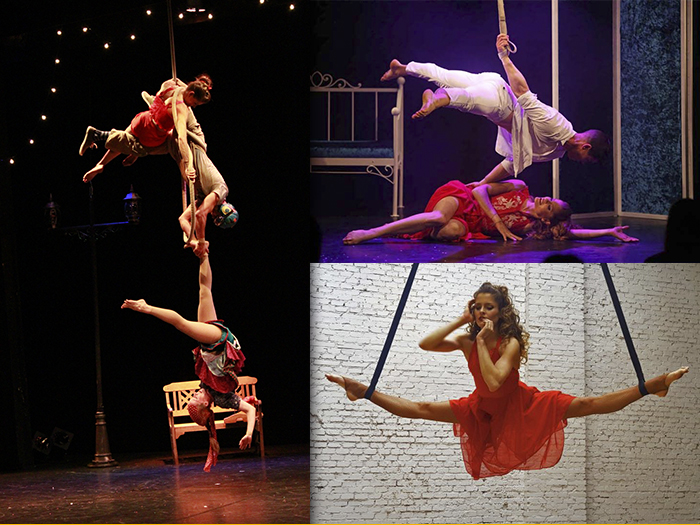 The last few months have been full of bad news, but surely something positive can be taken out of everything that is happening, what would it be in your case?
The most positive thing that we have taken out of these moments of work stoppage, has been the fact of the creation of new individual acts. We are used to perform short acts, for a specific circuit of events and Variétés. Elena has just released her first large format show with great success and Diego is in the process of creating his own. Therefore, the training and research, without a time pressure, because we knew that this situation was going to last for a long time, has allowed Elena to finish her show and Diego to start and get fully involved in his.
We have seen and felt a clear and polemic abandonment of the Cultural and Events sector in Spain, what is your opinion about the way it is managed by the institutions at a national and/or local level, do you receive any kind of financial support?
We believe that art, culture and specifically our sector, has not been put at the same level as other sectors by the administrations. And, above all, a main characteristic of our sector has not been considered: intermittency.

We have been one of the lucky ones who, having had regular work as freelancers in recent years, have been eligible for freelance aid during the confinement and we have also received aid from INAEM for the tour of "Los Viajes de Bowa". But many colleagues have not had the same luck, as they were on sick leave at the time of the confinement. And in our sector, the sick leave is not unemployment, it is waiting for the next project and probably working on the creation of a new one. This fact is considered in other countries, such as France or Belgium, and the struggle of the sector is mainly to put this situation on the table, because in crisis situations we are particularly exposed.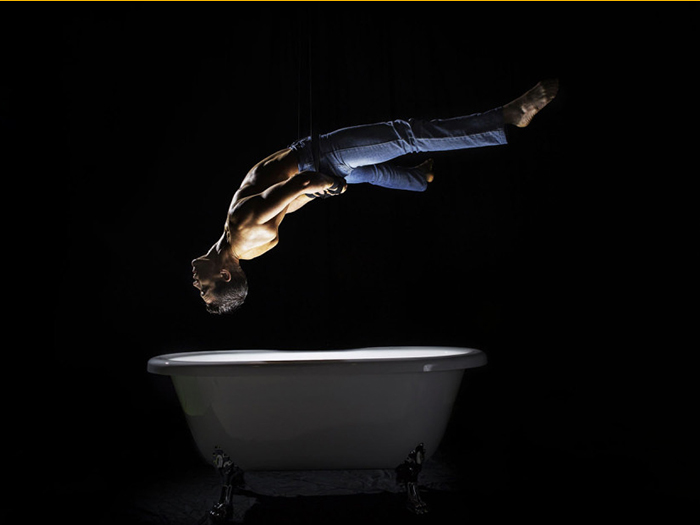 How do the next few weeks look like? We have been aware that you are going to participate in a festival, can you reveal more details?
After many cancellations added to the lack of work, we start a new experience in the XI International Festival of Magic of Circo Price, an annual event that brings together the best magicians in the world directed by the great magician Jorge Blass. And we link with Teatralia, with the show "Los Viajes de Bowa" in different locations in the Community of Madrid.
Can you think of any idea or suggestion that we can launch from here to support the artistic/performance/cultural sector?
We believe that everything is temporary, that this situation will pass and will be reactivated with more strength. People want to laugh, to participate actively in the activities proposed to them, to be uninhibited and enjoy art. And we are the ones who have to materialize that. It's time to create, it's time to dream, so that we can build and capture all that we are on stages, in streets, in spaces of any kind, when that becomes possible again, let's resist to demonstrate and show what we are, artists.